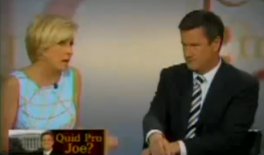 Over the weekend I noted that the Joe Sestak story was taking a back seat to the other big stories of the day, namely the BP Oil spill and Rand Paul, and that it would likely stay that way unless the newscycle died down a bit this week and the spotlight shifted. Well, the BP Oil spill continues to be top dog headline-wise, but there is a sense that Sestak and his possibly questionable dealings with the White House, which continue to bubble along as a news story, may have a long tail.
The story has actually been around for months. In an interview in March Sestak noted that the White House had offered him a job. He wouldn't say what the job was (the rumor was Navy Secretary) or confirm that the job was a payoff so that he wouldn't run against White House-backed Arlen Specter. The story reappeared after Sestak won the Pennsylvania primary last week and White House officials spent part of the weekend adamantly denying anything untoward had happened. End of story? Not as far as Joe Scarborough is concerned.
On Morning Joe yesterday Mika Brzezinski worried that the Sestak offer was proof the "backroom deal was alive and well" (and apparently fairly common), meanwhile Scarborough thinks the problem is the media is "not following it."
"The fact that the [White House] has let this go on for a week now shows there is something serious there, they can't clear it up….why the media allows it to continue to stay out there and just have the White House say 'trust us, there's nothing there,' it is media malpractice.
There's a long weekend ahead, one gets the sense that — barring further catastrophe in the Gulf — it just might be long enough that Sestak takes center stage before it's done. Video below.
Have a tip we should know? tips@mediaite.com