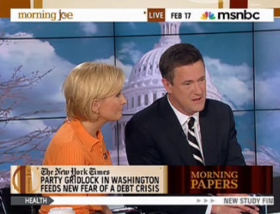 Joe Scarborough is getting a little tired of the accusations that naturally follow from being one of the last remaining conservatives on MSNBC. The Morning Joe host wrote a column on Town Hall making an impassioned defense of his conservative ideals, aptly titled "Am I Not Conservative Enough?", mostly directed at Media Research Center's Brent Bozell.
Bozell attacked him on the MRC blog earlier this week in a column claiming his commentary was increasingly "stupid, or reckless, or provocative, or insulting, or a combination of all the above" (Or, as Scarborough puts it, "you would think that I threw my lot in with a pack of pot smoking Greenwich Village Marxists.") Instead, he argues, he has maintained his values:
Republican leadership…became more liberal with Americans' tax dollars and it was large swaths of the Washington conservative establishment who sat silently by because they enjoyed being in power so much that they never bothered to let their principles get in the way of supporting reckless GOP party bosses.
It all seems to get at the root of a misunderstanding between Bozell and Scarborough – while Bozell claims to have never written about Scarborough, Scarborough went on the offensive in reaction to attacks on the MRC-related watchdog blog Newsbusters, which he implied were direct attacks from Bozell. Newsbusters has done some extensive work on Scarborough, and seem to be dead set on disproving his conservative tendencies. Scarborough himself points out in his piece that, while most of his hate mail is from antagonistic liberals, "mixed in with all those slanderous emails that call me everything from a fascist to a white supremacist, I usually find one email from Newsbusters asking why I hate conservatives." Bozell, however, was not the author of any of these pieces despite being the Newsbusters overlord.
Within Scarborough's multi-layered attack he also takes aim at fellow conservative Glenn Beck, and confirms his distaste for the Fox News commentator that helped get him in trouble with Newsbusters in the first place. In fact, despite the article being mostly directed at Bozell, he seems to have left his most scathing attack for Beck: he contrasts him to Ronald Reagan, arguing that Beck's divisive tactics would have sunk Reagan's presidential campaign definitively in the 1980s. He makes a point of excluding Beck when he explains that on his program, "I stand alone in my defense of conservative media figures like Rush Limbaugh, Matt Drudge, Roger Ailes, Bill O'Reilly or Fox News."
Attacking a who's who of conservatives in an article attempting to prove his conservatism is a gutsy and counter-intuitive move on Scarborough's part, one that is not very likely to get Newsbusters off of his back. And given that Beck is not one to back down from or attack people on his side of the aisle, has Scarborough tangled up the situation even further?
Have a tip we should know? tips@mediaite.com