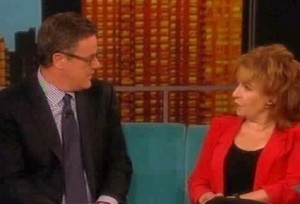 Morning Joe host Joe Scarborough paid a visit to The View Thursday morning. After introducing him, host Barbara Walters pointed out that his "better half" and "best friend," co-host Mika Brzezinski, was seated in the audience.
Walters kicked things off by pointing out that Scarborough, a Republican, wasn't too enthused about the party's presumptive nominee, Mitt Romney. "I'm not excited," he agreed. "I'm just not excited about Mitt Romney." He joked that his feelings about the former governor would best be described with a song from Jesus Christ Superstar: "I Don't Know How to Love Him."
RELATED: Scarborough Hits Back At Guests: You're Acting As If Dems Are 'Only Keepers Of Honesty And Truth'
"Why do I have to love him?" asked host Elisabeth Hasselbeck, pointing out that she's voting for a leader, not choosing someone to marry.
"Can I just say… there were two people who clapped along to that idea," joked Scarborough.
After swiftly pushing aside Joy Behar's suggestion to run as a third party candidate and avoiding her question of who he'd vote for — Obama or Romney — if a "gun was held to his head," Scarborough explained that what rankles him most about Romney is the candidate's changing positions on various issues.
He shared that former Florida governor Jeb Bush would make a great candidate, and that he had liked Jon Hunstman, but that his ideas about his own party ultimately cost him any viable chance at winning over voters.
"Your party has sort of gotten very bizarre lately," opined Whoopi Goldberg.
"Yeah," replied Scarborough. "If only we could be as rational and responsible as Democrats have always been."
After explaining his theory — a theory he'd expressed earlier this morning on his show, in fact — that the party not in power tends to move towards the extreme, pointing to another topic about which he's also discussed at length: his issue with Rep. Allen West's comments regarding rumored communists within the Democratic party and Republicans' silence about it.
RELATED: Joe Scarborough Incensed Over Rep. Allen West Comment On 'Communist' American Legislators: 'Meet My Wrath'
What has happened, he explained, "is you don't have people of courage willing to stand up to idiots." He then commended David Axelrod for standing up against a dumb comment made by a member of his own party. (Ahem.)
Have a look at what Scarborough had to say, via ABC:
Have a tip we should know? tips@mediaite.com