Scarborough Takes Shot at Palin While Praising Romney's Reaction to Harris-Perry Apology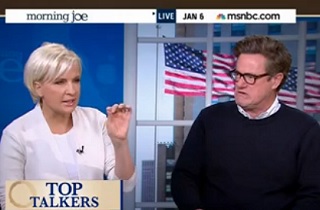 On Monday morning's Morning Joe, host Joe Scarborough called an audible, and decided it was time for his klatch to chop it up for a few minutes about Melissa Harris-Perry's emotional apology to the Romney family, and former Governor Mitt Romney's (R-MA) gracious reaction to that apology. In praising Romney, though, Scarborough invoked the ouster of Martin Bashir, and took a shot at former Governor Sarah Palin (R-AK).
"Let me jump in and say this," Scarborough said, about halfway through the segment. "Let's compare Sarah Palin's response, to when she was wronged, to Mitt Romney's response. All I'm going to say. Mitt Romney showed total class."
The balance of the segment seemed like a strange tribute to Saturday Night Live's Second-Hand News Guy Anthony Crispino. The segment opened with Scarborough telling the panel, and his producers, "Let's do it now, instead of that," and that improvisational tone carried over.
He asked former Palin Sherpa Nicolle Wallace about Harris-Perry's apology, which Scarborough admitted he hadn't seen, over a segment on her show that Wallace admitted she hadn't seen. Everyone agreed that Harris-Perry's emotional apology was genuine, and that Mitt Romney's reaction was gracious, especially, as Scarborough said, given the fact that Harris-Perry "brought their granddaughter into it."
The focus of the entire controversy was Mitt Romney's grandson, Kieran Romney.
The entire Rashomorning Joe spectacle could probably have been avoided had the show's producers been clued in on the cutting-edge innovation that is recorded video, none of which was played during the segment. It's still unclear if any of the show's participants had seen all of what they were discussing.
Scarborough also bemoaned what he called the "animals on Twitter" who continue to go after people even when they've apologized, including Martin Bashir, whom Scarborough complained about to MSNBC President Phil Griffin before the host was let go. Scarborough recounted a personal phone call with Bashir that occurred in the midst of that controversy, and which consisted of Bashir saying "Oh," and people close to Bashir saying "Martin!"
Co-host Willie Geist added that he had spoken to Martin at the time. "I know the same way Martin felt, because I was in touch with him too," Geist said. "Melissa feels terrible about it and the apology was heartfelt. She has apologized and it's time to move on, as Mitt Romney said."
Here's the video, from MSNBC's Morning Joe:
Have a tip we should know? tips@mediaite.com