Joe Scarborough: Talkers on Radio, TV Tell Voters 'If You're Not White,' 'Not Welcome' in GOP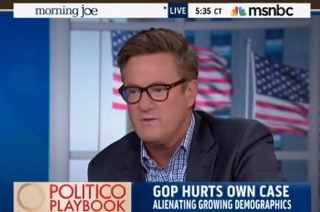 On Friday morning, MSNBC's Joe Scarborough, host of Morning Joe, blasted Republicans for focusing on the wrong issues in their efforts to reassemble a coalition of voters that can win national elections. He told his fellow co-hosts that the party leaders know but will not say that it is conservatives on talk radio and on cable news that communicate a message to voters which suggests "if you're not white, you're really not welcome in this party."

In a discussion of what problems the GOP faces with the Morning Joe panel guests, MSNBC anchor Thomas Roberts said he did not appreciate Republican Party spokesman Sean Spicer congratulating him on his recent wedding to his husband. He said it made no sense to him because the party opted to put a clause in its platform opposing same-sex marriage.
"So it's odd because then they'll go out and drum beat that they're against marriage equality," Roberts said.
Scarborough said that Republicans are overly antagonistic to members of the LGBT community who care about gay marriage, or Latinos who care about immigration issues, or African-Americans who care about discrimination issues.
RELATED: Beck Fires Back at MSNBC Host Scarborough's 'Highest Paid Rodeo Clown' Crack
"You take Trayvon Martin, it would have cost republican leaders absolutely nothing," Scarborough said to Ed Rendell, "absolutely nothing, to just show a little respect."
"It doesn't cost you anything to stay off of talk radio or prime time cable news shows where you get in the middle of this divisive debate and send a message to African-Americans and other minorities you don't care," he continued.
"The Republican Party right now is sending out signals," Scarborough asserted. "If you're not white, you're really not welcome in this party."
"These people on talk radio, these people on cable news that are saying these things that are driving off the very swing voters we need to get elected to the White House again," Scarborough concluded. He advocated for high-profile politicians to publically castigate Republican talkers in cable news and on talk radio to win back minority voters.
Watch this clip below via MSNBC:
> >Follow Noah Rothman (@NoahCRothman) on Twitter
Have a tip we should know? tips@mediaite.com