Joe Scarborough: The Right Carries Bibles But Misses Jesus' Point About The Poor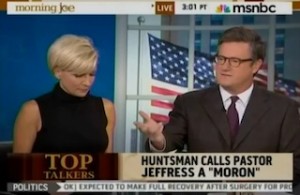 The intersection of religion and politics is always a tricky business. Critiquing the way that some in politics use religion as a political football is a brave feat that rarely pays off. But Morning Joe host Joe Scarborough is in a unique spot in the opinion media spectrum to do just that, as he did this morning when he called out "many on the right" for missing the core of Jesus' message of caring for the poor, despite waving 'their bibles around the most.'

RELATED: Anti-Mormon Southern Baptist Leader Slams Mitt Romney's Faith As 'A Cult'
Scarborough's comment came during an interview with Tavis Smiley and Cornell West about politics, Occupy Wall Street, and recent comments made by Pastor Robert Jeffress, who declared that Mitt Romney was not a Christian and that Mormonism was a cult. Since Christianity was a major topic at last weekend's Values Voters Summit, and since much of the news narrative is focused on the inequity of wealth being protested by Occupy Wall Street protesters, Scarborough felt the need to weigh in:
I don't usually do this but I am going to do it now because it seems that Christianity is constantly being thrown into primary debates. It happened again this past weekend. How fascinating that, despite the fact that many on the right have brought religion up over the past 30, 40 years, they somehow missed the core of Jesus' message?

Jesus was asked by his disciples, who is getting to heaven? How do we sit on the right hand of the father? This is what Jesus Christ said. By the way, Pastor Jeffress, if you open your Bible to Matthew, it is in red letters. That means Jesus said it. Then, the King will say to those on the right, come you who are blessed by my Father, take your inheritance. For I was hungry, and you gave me something to eat. I was thirsty, and you gave me something to drink. I was a stranger and you invited me in. I needed clothes and you clothed me. I was sick and you looked after me. I was in prison and you came to visit me.

And that was not Jesus talking about some side issue, some side board to his ministry. That was Jesus talking about, when asked, what His ministry was about. It was about taking care of the poor. We don't see that from the very people who wave their bibles around the most.
RELATED: Anti-Mormon Pastor Admits To CNN: Religion Should Trump Competence In Elections
Scarborough's comments are a breath of fresh air, regardless of one's belief's in Christianity and understanding of the current political landscape. Kudos to him for bravely wading into a very muddied river of dogma and political rhetoric, and coming out relatively clean by simply reminding many on the right about taking care of the poor.
Watch the clip below, courtesy of MSNBC:
Have a tip we should know? tips@mediaite.com
Colby Hall - Founding Editor