Joe Scarborough: The Way Media Covered For Obama's Negative Ads Is 'Shameful'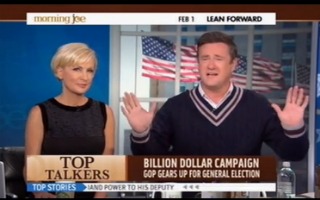 The Morning Joe crew took a look at the fallout from — and the benefits of — using negative ad campaigns in presidential elections. The panelists agreed that Mitt Romney's success in the Florida primary was tied to his decision to "hit back" against Newt Gingrich's slew of negative campaign ads, both with his own ads and during debates.
Host Joe Scarborough was quick to remind everyone that, back in 2008, Barack Obama launched his own barrage of ultimately successful negative campaign ads:
I don't know a lot of candidates that wouldn't rather win ugly than lose pretty. Jon Huntsman lost pretty. Mitt Romney, this past week, won ugly. But, that's…. I mean, Barack Obama won ugly in 2008; he ran more negative ads than anybody else in the history of television. He ran so many negative ads that he actually swung ahead of John McCain on the question of who do you trust more on taxes. 'Cause remember the grainy, negative, false, misleading ads that he ran over and over again. […] I mean, these negative ads worked.
RELATED: Sarah Palin: Mitt Romney's Negative Advertising 'Hurts The Electorate'
Later, Mika Brzezinski noted that the President had sat himself in the driver's seat of a sports car at the DC auto show, "as he should." "I'm not trying to be smug," she added.
Scarborough got a laugh out of that before turning to panelist Donny Deutsch. "Well, there's no need to be smug," Scarborough said. "This is going to be a tough, long campaign. But, Donny Deutsch, the man in the driver's seat right there ran more negative ads — 30-second ads, 4 years ago — than any candidate in history."
"The only difference," he added, "between Barack Obama and Mitt Romney is the mainstream media — every network, The New York Times, the Wall Street Journal, the Washington Post — they all covered for him. Nobody wrote that story because they all wanted him to him. It was shameful the way they covered for him."
Deutsch, meanwhile, felt we should retire the term "negative ads."
"Why?" asked Scarborough. "Because I attached it to Barack Obama?"
Brzezinski, all the while, kept trying to get Scarborough to answer a question about whether the President is "literally and figuratively in the driver's seat."
"No!" he said, finally.
And a (hilariously) sassy morning was had by all. Have a look, via MSNBC:
(NOTE: The original headline for this article, "Joe Scarborough: The Way The Mainstream Media Covered For Obama's Negative Ads Is 'Shameful'" was shortened in order for it to properly fit on the website's home page.)
Have a tip we should know? [email protected]