Joe Scarborough To Agreeing Chris Christie: 'There Need To Be Limits' To First And Second Amendments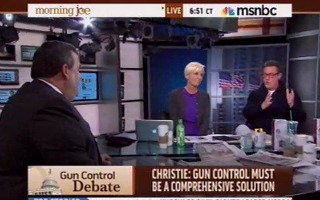 MSNBC host Joe Scarborough sat down with New Jersey's Republican Gov. Chris Christie on Wednesday to discuss Washington's ongoing effort to reach a consensus on a legislative remedy to gun violence. Scarborough criticized both his conservative and liberal friends for their intransigence in this debate. He said that he felt it was obvious that "there need to be limits" to both the First and Second Amendments to the Constitution.

RELATED: Scarborough Questions 'Long-Held' Beliefs After Newtown: 'Ideologies Of My Past Career' No Longer 'Relevant'
"Most of my conservative friends agree; these survivalists don't need assault weapons," Scarborough said. He went on to isolate what he thought was a strain of hypocrisy among his liberal friends.
I've been getting a lot more grief, Chris, from liberals. They'll say the Second Amendment is not absolute. But then you talk about movies. You talk about, you know, porn violence — which is what it is. You talk about video games. They go crazy, and basically accuse you of burning the American flag and ripping the Constitution to shreds.
"Yup," Christie agreed.
"We understand there are limits to the first amendment. There need to be limits to the First Amendment — and there are. And there need to be limits to the Second Amendment — and there are," Scarborough concluded.
Christie agreed again, and added that media violence in movies and video games needs to be addressed as much as firearm access to prevent future mass shootings.
Watch the clip below via MSNBC:
> >Follow Noah Rothman (@Noah_C_Rothman) on Twitter
Have a tip we should know? tips@mediaite.com