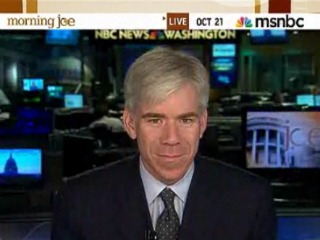 Meet the Press' David Gregory paid a visit to the Morning Joe crew this morning to share a theory on what, exactly, Herman Cain is doing in our national spotlight. Is he just here to promote his book?
RELATED: Herman Cain And Lawrence O'Donnell Duke It Out On The Last Word
Host Joe Scarborough introduced Gregory by asking him to weigh in on how Cain's recent "pro-choice" admission to CNN CNN's Piers Morgan will play out in Iowa. Gregory admitted he was perhaps a bit confused by whatever strategy it is that Cain is undertaking:
RELATED: Herman Cain Tells Piers Morgan That He Is Anti-Abortion, Yet Pro-Choice?
The thing that strikes me about Herman Cain, and when I interviewed him last week it first came up, you know this business about making a joke about an electric fence or his performance in the debate where he says, "Well, you know, I wasn't asked about Al Qaeda and letting a hostage go" when it's so clearly there on the table. I mean, it just… He's either not remembering things or he's just playing a little bit loose on some of these things, but it's not a good strategy. You know, you can't play that loose on some of these issues and be shown to be ill-informed or to just be that inconsistent.
Scarborough responded by noting that, as he and the mainstream media sees it, Cain is basically "on a glorified book tour" and that he "does not appear, by any objective standard, to be running a presidential campaign."
Have a look at the full segment, courtesy of MSNBC:
Have a tip we should know? tips@mediaite.com