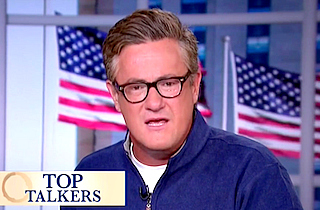 On his Politico blog Wednesday, MSNBC's Joe Scarborough took issue with Janay Rice attack on the news media.
Video surfaced this week of Janay's husband, former Baltimore Ravens running back Ray Rice, knocking her unconscious. The video was played on repeat across news channels and written about obsessively on blogs.
Janay, who has stuck by her husband, used her Instagram account to lash out at the news media. "No one knows the pain that the media and unwanted options from the public has caused my family," she wrote. "To make us relive a moment in our lives that we regret every day is a horrible thing. To take something away from the man I love that he has worked his ass of for all his life just to gain ratings is horrific."
Scarborough wrote on his blog that Janay "doesn't understand" her husband is the only person to blame:
Domestic abuse experts say that victims often defend their abusers. Maybe that's why Janay Rice doesn't understand that Ray Rice is the only person to blame for his firing from the NFL's Baltimore Ravens.

The Rice family's predicament is not the media's fault. It's not an outraged public's fault. It's not Janay Rice's fault — even if she and the Ravens bizarrely apologized for her actions on the night she was brutally assaulted. The fault lies instead with a trained gladiator who punched a defenseless woman so hard in her face that she could have died — as well as a football league and feckless prosecutor who turned a blind eye to the vicious attack.
[Photo via MSNBC/screen grab]
— —
>> Follow Eddie Scarry (@eScarry) on Twitter
Have a tip we should know? tips@mediaite.com