Joe Scarborough To Obama Critics: He's Either Stalin Or Jimmy Carter, He Can't Be Both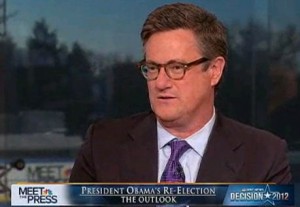 In a recent piece for Washington Post, columnist Ezra Klein referred to President Obama as a "moderate president in an immoderate time." In contrast with conservatives (and some liberals) who think Obama is too ideologically rigid, many like Klein believe he has been one of the most moderate presidents of our era. David Gregory discussed this with the panel on Meet the Press, and whether it's the president or his rivals who are more ideologically stubborn.
RELATED: Michael Moore Calls Obama's First Term 'Heartbreaking' And 'A Disappointment'
Bill Burton, former White House Deputy Press Secretary and co-founder of the pro-Obama Super PAC Priorities USA Action, argued that Obama has a strong ability to bring people together and force his opponents to look like the ones outside the mainstream. Joe Scarborough totally disagreed, referring to Andrew Sullivan's controversial Newsweek column about Obama's long game against his enemies, but he did acknowledge that the criticism of Obama is completely contradictory.
"You can't have it both ways. Barack Obama can't be Joseph Stalin and Jimmy Carter at the same time. Pick your poison. Is he an incompetent moderate, according to the right, or is he a dangerous ideologue?"
Scarborough predicted he'll be compromising with the Republicans throughout the rest of the year, and if he wins reelection, for the following four. Burton, meanwhile, defended running a Super PAC for Democrats when the party has generally taken a stance in favor of stronger campaign finance reform and against Super PACs. Burton repeated the familiar line that the Democrats really, totally want these things, but they refuse to play by a completely different set of rules than the Republicans do.
RELATED: Debbie Wasserman Schultz Defends Obama SuperPAC Stance: 'The Rules As They Exist Now Are The Rules We Will Play By'
Noonan argued that Obama was more extreme than moderate because of his administration's rigidity on the birth control mandate (though they have since drawn it back to a compromise). E.J. Dionne agreed the mandate wasn't the smartest idea, but thought it "absurd" that Obama could be framed as an extremist or a socialist.
Watch the video below, courtesy of NBC:
Have a tip we should know? tips@mediaite.com
Josh Feldman - Senior Editor