Joe Scarborough To RNC Chairman: 'Shut Up' With 'Cheap Shots' On Rep. Weiner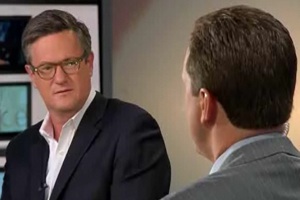 On Morning Joe, Joe Scarborough previously shared his hesitancy to cover the Anthony Weiner scandal at all until it had real political developments. Now that the Democratic leadership in the House is calling for Weiner's resignation, Scarborough is ready to discuss the topic, but is not pleased that Republican National Committee Chairman Reince Priebus is attempting to exploit the controversy for his party's political gain.
The panel discussed a Meet the Press appearance by Priebus and DNC Chair Debbie Wasserman Schultz where Priebus attacked Democrats for not showing leadership and for spending many days trying to protect Weiner's job. Scarborough responded to the exchange suggesting Priebus should "back off," because he is sick of seeing the leaders of one political party always attempt to exploit the scandals of their opponents:
"It's just stupid. Seriously, just shut up. You know what, that's what I hate about the coverage of these scandals. . . . That was a stupid exchange over the weekend, especially when you had Nancy Pelosi, Steny Hoyer and Debbie Wasserman Schultz, all of them saying [to Weiner] 'get out.'"
Scarborough's co-host Mika Brzezinski agreed:
"This is for the Democratic party to deal with, it's obviously sad, it's obviously going downhill. Wouldn't you, if you were a Republican leader right now, just back off and let that train keep going?"
Scarborough was impressed with how quickly and aggressively the Democratic leadership moved against Weiner and later in the segment maintained that he thought Priebus' "cheap shot" was a "desperate plea." The conversation turned a bit lighter when Scarborough admired how Weiner was able to take a picture of himself in the House gym when it was empty, since he couldn't ever remember a time when he served as a Congressman that the gym wasn't packed.
Watch the clip from MSNBC below:

Have a tip we should know? tips@mediaite.com