Joe Scarborough Tweets Ann Coulter Damage Control About Ted Kennedy And John McCain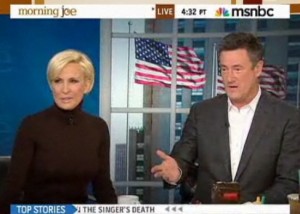 Ann Coulter made a hot mess of her Morning Joe appearance today, launching verbal assaults at late Sen. Ted Kennedy and Sen. John McCain, one of which was censored by the show, but neither of which prompted any real-time reaction from host Joe Scarborough. Since then, though without mentioning Coulter, Scarborough has repeatedly tweeted his followers to remind them of his respect for both of his former colleagues.
A few minutes into her appearance, Coulter offhandedly called late Sen. Ted Kennedy "that human pestilence," to a brief, awkward rebuttal by Mike Barnicle, and a quick subject change by Joe Scarborough. A few minutes later, she ran afoul of the show's censors, apparently for calling Sen. John McCain (R-AZ) a "douchebag."
Scarborough, who was a colleague of both men while he was a member of Congress, didn't directly address Coulter's remarks in either case. Perhaps he will at a later time. Several minutes after her appearance ended, though, he did lead his panel in a discussion of Ted Kennedy, and what he meant to all of them. Here's that clip, from MSNBC:
Since then, Scarborough has also sent tweets expressing his affection and respect for both men:
I am proud to say that Teddy Kennedy was a friend and very kind to me when others were not. I miss him.

John McCain is an American hero and a great man. All of us at Morning Joe thank him for his service to America.
He also made a point of tweeting a link to the segment above:
Our Morning Joe panel talks about our dear friend, the late Ted Kennedy
Although none of Scarborough's tweets directly reference Coulter, the fact that he has re-sent each of them three times sends a pretty clear message: Coulter's views do not, in any way, reflect Joe Scarborough's. However, anyone who knows anything at all about Joe Scarborough already knows that. He really ought to address what Coulter said directly, and perhaps he will.
This was Ann Coulter's first appearance on Morning Joe, so even given her reputation, it's somewhat understandable that she may have caught Scarborough and co. by surprise. If they're going to have Coulter back again, they need to be better prepared to meet her frequent verbal assaults with more than deafening silence. She didn't just ask them to "please pass the jelly." Her antics shouldn't be treated like those of a child using the wrong fork.
Have a tip we should know? tips@mediaite.com