Joe Scarborough: 'Unseemly' That Mitch Daniels Threw Wife & Daughters 'Under The Bus'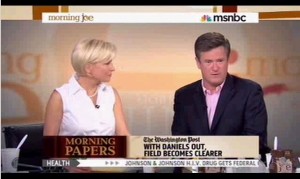 Over the weekend, Indiana Gov. Mitch Daniels announced his decision not to run for president in 2012, and Monday morning, he took heavy criticism from Morning Joe host Joe Scarborough, not so much over his decision, but for the reasons he gave. By essentially blaming his wife and daughters for what Daniels agreed could be seen as an "unpatriotic" decision, Scarborough argued that Daniels had thrown his family under the bus, and interpreted Daniels' announcement as an expression of "resentment" against the women in his family.

Scarborough called the statement "unseemly," and said that Daniels' wife and daughters have spent the weekend "being abused on conservative threads."
Co-host Mika Brzezinski disagreed, calling the statement "loving," apparently comparing it in her mind with Siberia and Hoth.
"Thrown under the bus" might be a bit strong, but Daniels' email to supporters, and subsequent statement to The Indianapolis Star, probably constitute the worst way possible to cite family concerns as a reason to drop out. In the email, he splits the difference between "the interests and wishes of my family," but in his statement to the Indy Star, places the onus firmly on the womenfolk, saying " our family constitution gives a veto to the women's caucus, and there is no override provision."
In that email to supporters, Daniels said of the decision, their decision, that he wouldn't argue with anyone who called it "non-courageous or unpatriotic."
While Daniels' "family constitution" isn't available for public view, it's safe to say he would have been better off availing himself of its Fifth Amendment, rather than blaming them for his own decision not to run. It was a weak move that will not only affect his political future, but will likely get him scratched off of any invitations to poker night.
Here's the clip, from MSNBC's Morning Joe:
Have a tip we should know? tips@mediaite.com