Joe Scarborough To Suze Orman: Debt Growth 'Not Just About Big Business; It's About Big Government'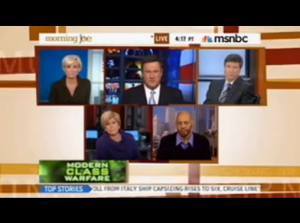 On Monday, the Morning Joe team welcomed financial guru Suze Orman onto the show to discuss Elizabeth Warren's ideas regarding debt.
"Now, I think [people] need to listen to Elizabeth Warren," said Orman. "I'm actually sorry she wasn't appointed head of the CFPB. I'm a big supporter of hers. And it is true: What used to be no longer works today." Orman then, citing the Census Bureau, added that one out of every two people is in or near poverty and that, once you're in poverty, "there is no way, currently, to get out. So you have to be able to control what the credit people have done, what the banks have done."
"How about listening to how our parents raised us, and how our grandparents them?" asked panelist Mike Barnicle. "How about listening to 'you keep in what you don't have'? That you can't create your own credit card society around the kitchen table. You might not need the big screen TV."
RELATED: Keep Your Clothes On: Elizabeth Warren Out-Raises Scott Brown 2 to 1 In Third Quarter
Orman then compared people to Trick or Treaters who've had their Halloween candy taken away, to which Barnicle suggested they be sent to their rooms and left to cry it out on their own. "You help people," Orman continued. "You don't let kids drive when they're 3. You don't let people vote until they can."
Later, host Joe Scarborough weighed in:
You know, I keep hearing about all of the problems being big businesses and big banks. And yes, there has been fraud. But we're sitting here ignoring what is going on all around us. We have historical trends that are exploding in our faces. You look this past weekend, look what happened on Friday. France downgraded because of massive debt. Eight other countries in Europe, downgraded because of debt. Our federal government keeps getting bigger by the year, and we keep sitting here scratching our heads going, "well, what are we doing? Why are more and more people going into poverty? It must be big business's fault."

The federal government keeps growing by the year. The debt keeps growing. When Democrats are in power, the federal government gets bigger, and debt gets bigger. When Republicans are in, when Democrats are in, it gets bigger. And I hear Dr. Sachs saying all morning about Mitt Romney's "right-wing radical plan." That's a bunch of bunk! It is bunk. Mitt Romney doesn't have a conservative plan. If he did, I would already be on board with him. But he's going to be a big-government Republican who is going to follow a big-government Democrat who followed a big-government Republican in George W. Bush. I mean, come on, we have to break this trend. And it's been going on for 30, 40 years. The government just keeps getting bigger. And our debt keeps getting bigger. Crowding out takes place, and we just sit here trying to blame big business. That's not going to sell with middle Americans moving forward.
"It's not just about big business," he concluded. "It's about big government."
Have a look at their discussion, from MSNBC:
Have a tip we should know? tips@mediaite.com