Joe Scarborough: Where Are Liberals Blasting Obama for Rise of 'Income Inequality?'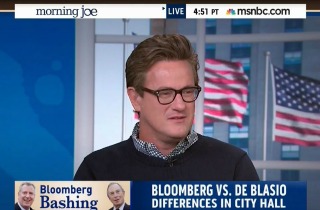 The host and guests of MSNBC's Morning Joe on Friday echoed the themes in a New York Times editorial which criticized many of the speakers who addressed Wednesday's inauguration of New York City Mayor Bill de Blasio. Several of the speakers were directly and unnecessarily critical of former Mayor Mike Bloomberg, according to the Morning Joe panel. Host Joe Scarborough asked if liberals would be as sharply critical of President Barack Obama for presiding over an era they say has been characterized by a rise of income inequality.

POLITICO reporter Maggie Haberman began by attacking singer Harry Belafonte who linked the rise in the nation's incarceration rate to Bloomberg. Haberman noted that the city's incarceration rate has actually been decreasing in recent years.
"Leaving the factual inaccuracies aside for just a minute," TIME Magazine reporter Mark Halperin interjected, "There's a place and time for everything."
"The city's been very strong thanks to him, and for people to come on this occasion and use the platform to criticize him in an ungracious and often unfactual way, I think, is outrageous," he added.
RELATED: NY Times Smashes 'Graceless and Smug' De Blasio Inauguration Speakers
Halperin and Scarborough criticized de Blasio for not defending Bloomberg more in the moment when he was being attacked from the inauguration stage. Scarborough added that history will be kind to the records of both Bloomberg and former Mayor Rudy Giuliani.
Halperin added that, as much as much of the criticism of Bloomberg comes from non-white New Yorkers, the pre-Giuliani racial tensions – which regularly resulted in mass violence in the city — are largely gone. "That is a huge achievement in a city like this," he said.
"Income inequality increased sharply under Barack Obama," Scarborough observed. "I doubt you will have speakers when Barack Obama leaves after eight years blaming Barack Obama for the massive increases in income inequality. They shouldn't have done it there."
The panel closed by hoping that de Blasio takes the time to be more openly appreciative of Bloomberg's service to the city.
Watch the clip below via MSNBC:
[Photo via screen grab ]
— —
> >Follow Noah Rothman (@NoahCRothman) on Twitter
Have a tip we should know? [email protected]