Joe Scarborough: 'Worst-Kept Secret In Washington' Is That Obama Is A 'Lousy Manager'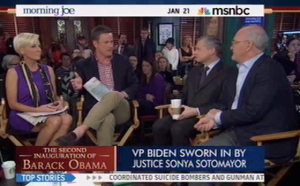 With President Obama's second inauguration upon us, the Morning Joe crew discussed the road ahead for the president and the Republican Party alike. Noting the problems both face, co-host Joe Scarborough particularly took a look at Obama's apparent inability to schmooze and socialize. Moreover, he added, the president is a "lousy manager," and everyone knows it.
Scarborough pointed to a New York Times piece, which, he said, made the point he's been waiting to hear for four years. Obama and his team "would benefit, as they begin the second term, by acknowledging that many of the biggest problems facing the administration flow directly from the man at the top. Mr. Obama is a lousy manager," the piece asserts. "As chief executive he gets a C — and then only if graded on a curve that takes into account his predecessor's managerial weaknesses."
"This is the worst-kept secret in Washington," Scarborough contended. "Every Democratic senator has complained about how he never calls them, he never reaches out. […] We've heard it for four years. We've heard people that have been inside the White House running the White House saying it's been a dysfunctional place."
He's "emotionally isolated," Mike Barnicle chimed in, noting that being "reclusive" seems to be in Obama's nature.
Scarborough also circled back to his criticism of the Senate not having passed a budget, but offered some positive sentiment as well.
"You have to get out of your comfort zone," he argued. "That is something that this president has not done, but I'm really optimistic he's going to do it this time because his legacy depends on it."
Watch below, via MSNBC:

Have a tip we should know? tips@mediaite.com