Joe The Plumber Tells Eric Bolling: Biden Will Be 'Eating Those Words' About Plumbers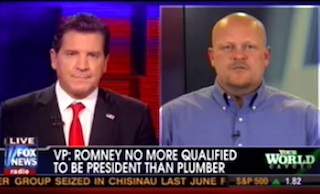 Ohio Republican Congressional hopeful Joe The Plumber AKA Samuel Wurzelbacher lit into Vice President Joe Biden on Fox News' Your World with guest host Eric Bolling, calling him out for his recent comments that private equity "no more qualifies you to be president than being a plumber."
"It was insulting," Wurzelbacher told Bolling. "For Joe Biden to sit there and say who can be president and who not, who's qualified and who isn't, is just asinine, especially with the track record they left behind them. If I was this administration or Joe Biden himself I wouldn't want anyone looking at my record and sitting there talking about how great we are and you should be sitting down there."
RELATED: Joe Biden: Working In Private Equity 'No More Qualifies You To Be President Than Being A Plumber'
"The middle class workers or blue collar workers, we can do it, and, this election cycle we're going to do it," the plumber added. "People are going to see it happen and it's going to be great, so they're going to be eating those words."
Bolling asked if he found Biden's comments elitist.
"Yes, very elitist," he quipped.
Bolling asked how his Congressional race was shaping up, which he said was going well.
"…We need to work together to help it happen, kind of like how we're beating Barack Obama's health care initiative," Wurzelbacher replied.
Bolling then segued into asking him about what plumbers did for a living — at least, that's how Joe The Plumber interpreted it.
"Health care initiative — what do plumbers do, open drains and toilet bowls, right?" Bolling asked.
"Oh yeah, you've got rotor-rootering where you you cable lines to make sure you clear the blockage but plumbers do a lot of things, geothermal…" Wurzelbacher began.
"I was making the leap to Obamacare, work with me," Bolling interjected with a laugh and then promptly ended the segment.
The segment via Fox News below:
Have a tip we should know? tips@mediaite.com