Joe The Plumber To Lawrence O'Donnell: Are We Going To Talk About Me Or Herman Cain?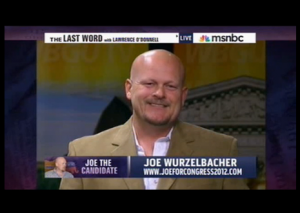 Have you all been missing "Joe the Plumber"? (Just go with it.) Well, you can find him on… MSNBC? Yup, on Thursday night, none other than Lawrence O'Donnell welcomed Joe the Plumber — né Samuel Joseph Wurzelbacher — onto his show to discuss the latter's plans for a House run in Ohio.
RELATED: Joe The Plumber Is Back And Filing For A House Run In Ohio
The two kicked things off by talking about Herman Cain's 9-9-9 plan. O'Donnell asked Wurzelbacher ("I don't mean it as a 'gotcha' question.") whether he knew the median income in the district he would like to represent — which he did. O'Donnell followed up by noting that, under Cain's plan, people making around the median annual income in that particular district — around $43,000 — would be paying 2 to 4 thousand dollars more in taxes. When asked whether this impacts Wurzelbacher's support for the plan at all, he simply said that "experts" on either side are each saying different things.
Fair enough! So. Does he want to abolish Medicare and Social Security?
Are we going to talk about what I want to do with the Great Lakes or are we going to talk about Herman Cain? [Ed. note: Go Joe!] You can have him back on if you'd like, Mr. O'Donnell. […] Do I want to? Is that what you're asking me? No, God no. I want to protect Social Security and Medicare and Medicaid. Those promises have been made and they need to be kept.
Later, he said that one reason he's running is "jobs, man." "We have to have jobs in this area. Union, non-union alike, we need jobs," before adding that he wants to "promote American people over party politics."
Watch it all unfold, via MSNBC:
Have a tip we should know? tips@mediaite.com