John Berman To Romney Rep: He Has Run 'On & Off Since 2006,' How Come He 'Can't Convince People To Like Him?'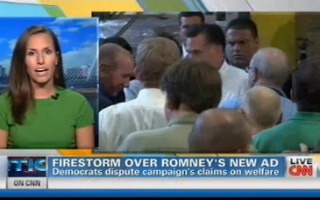 On Wednesday, Mitt Romney campaign press secretary Andrea Saul appeared on CNN's Starting Point to address the criticism a new Romney ad about welfare reform has garnered.
"If President Obama didn't want people to think that he was going to waive the central work requirement in welfare reform," she said, "his administration shouldn't have written a memo saying it was going to waive the work requirement in welfare reform. And that's just what they've done. And they can issue blog posts and have surrogate statements saying that's not what they meant, but the memo still stands. It hasn't been revoked. That's exactly what it says, like giving a teenager, 'hey give me the keys, i'm not going to drive your car, I promise.' It's just ridiculous. President Obama has been a vocal opponent of President Clinton's bipartisan reform in the '90s. So it should really come as no surprise that this would be something he would want to do."
"What we see time and again with President Obama," she added later, is that "he signs executive orders and gets no one on board to work toward any kind of agenda. He decides what's going to please his liberal base and with a stroke of a pen waives the work requirements."
Talk then turned to the candidates' favorability numbers, with host John Berman noting that Romney has experienced a drop in favorability over the summer months, despite the fact, he noted, that Romney has been "running on and off" since 2006. "How come he can't convince people to like him?" he asked.
Saul responded that people are still getting to know Romney, pointing to surveys saying that people trust Romney over Obama when it comes to the economy and "turning things around."
"Are you saying that people don't have to like Mitt Romney to vote for him?" asked Berman.
"I think that the more people learn about Mitt Romney, the more they are going to like him," she said.
Earning her keep as a campaign press secretary, Saul then advised Berman that, if he wants to be (among) the first to know Romney's VP pick, he should download the campaign's special app. Berman responded that this was a load of "Obamaloney."
Watch, via CNN:
Have a tip we should know? tips@mediaite.com