John Boehner: 'America Can't Live For Four More Years With Barack Obama As President'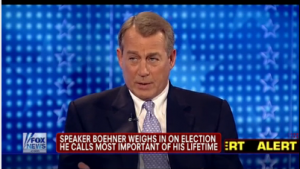 House Speaker John Boehner appeared on Fox News Tuesday morning, where interviewer Bill Hemmer asked him about his recent comment that this year's election constitutes the most important of his lifetime.
Boehner offered an explanation:
RELATED: John Boehner Rips Obama's Record: President 'Lost His Courage,' 'Checked Out Last Labor Day'
I think the President's economic policies have failed. I would argue that they've actually made things worse. And as a result, the problem — the President has turned to the politics of envy and division. Now this is not, in my opinion, the right way to run for re-election. Republicans have a plan to get America going again, get American back to work. And that's why I believe that this election is so important.

America can't live for four more years with Barack Obama as President. His policies will turn America in a direction that we may never recover from. The size, scope of government. The debt that hangs over our economy.
Boehner then shared that, when he and the President had disagreements last summer, Obama would say "John, that's what elections are for." And that he would tell him the very same.
Later, he said that he believes Republicans will retain control of the House, although they have some challenges in their way. He also feels optimistic about Mitt Romney's chances, crediting the presumptive GOP nominee for having withstood a "bruising" primary with numbers close to the President's. "Mitt Romney has a great story to tell," he said. "His success story is an American success story."
Have a look, via Fox News:
Have a tip we should know? tips@mediaite.com