John Boehner Gets Emotional After Being Reelected Speaker: 'It's Time We Get A Little Awe-Struck Again'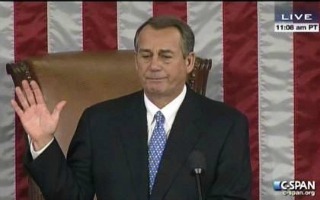 After being reelected by his colleagues in the House of Representatives for another term as Speaker on the first ballot, Rep. John Boehner (R-OH) thanked his colleagues on Thursday and called for his fellow Members to take their jobs a bit more seriously.
Boehner took to the podium to thank his colleagues and Minority Leader Nancy Pelosi (D-CA)

"We meet again at Democracies great port of call," Boehner began.
He welcomed the new members to the House, but also offered a small admonishment of his fellow returning Representatives. "For those of you who are returning, who've walked these aisles before, maybe it's time we get a little awe-struck again," Boehner said.
Boehner detailed the House's constitutional duty to represent the people, not platforms or party agendas.
Boehner began to become emotional as he described the duties bestowed by the Constitution on America's Congressional Representatives.
He turned to the nation's mounting debt and deficit, saying that it is the duty of Congress to safeguard the futures of America's children against an insurmountable burden of debts.
"As Speaker, I pledge to listen and to do all I can to help all of you carry out your oath of office that we are all about to take, because in our hearts we know that it's wrong to pass this debt along to our kids and grandkids," Boehner said.
"If you've come here to see your names up in lights or pass a political victory off as some accomplishment, you've come to the wrong place," Boehner said. "The door is right behind you."
Watch the speech below via C-SPAN:
> >Follow Noah Rothman (@Noah_C_Rothman) on Twitter
Have a tip we should know? tips@mediaite.com