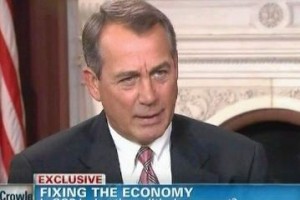 On CNN's State of the Union today, Candy Crowley pointed out to House Speaker John Boehner that in recent weeks he has been ramping up the attacks on President Obama. He has recently taken to accusing Obama of acting beneath the office of the presidency in how he has chosen to pick fights with Congress. However, despite Boehner's sharp tone in decrying Obama's tactics, he insists he is doing it to try and "help" the president.
RELATED: Speaker Boehner Blasts Obama During House Speech: 'Do We Have To Fight About Everything?'
Boehner insisted that he still has a "very good relationship" with the president despite everything he's said, including his campaign-style rhetoric claiming that the United States "can't live for four more years" under Obama. Boehner made it clear that while he may have amped up the rhetoric, he has not attacked the president on any personal grounds.
Boehner went down a whole list of examples to argue that he really believes Obama is acting beneath the office of the presidency in his election-year posturing.
"The president's getting some very bad advice from his campaign team because he's diminishing the presidency by picking fake fights, going after straw men every day… the president's bigger than this. The presidency is important. America has big challenges, big fiscal challenges, and we've got big challenges for our economy, and the president ought to be working with Democrats and Republicans on Capitol Hill to address the big issues that affect the American people."
When Crowley pressed him on if this is just election-year rhetoric, Boehner said, "Someone needs to help him out, so I thought I would."
Watch the video below, courtesy of CNN:
Have a tip we should know? tips@mediaite.com
Josh Feldman - Senior Editor