John Boehner Rips Obama's Record: President 'Lost His Courage,' 'Checked Out Last Labor Day'
John Boehner Rips Obama's Economic Record: He 'Lost His Courage'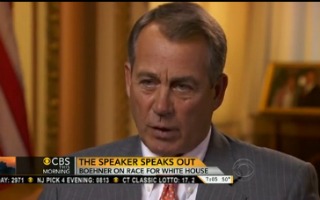 CBS This Morning co-anchor Charlie Rose recently sat down with House Speaker John Boehner, asking him about his recent endorsement of presumptive Republican nominee Mitt Romney.
Rose asked Boehner whether the lengthy primary has had a negative impact on Romney's election bid. "I don't think there was any real damage done," the Speaker replied. "It got messy, just like the race four years ago between Barack Obama and Hillary Clinton. It went on until June of 2008. Charlie, this election's going to be a referendum on the President's economic policies. It did not help the economy. It actually made it worse."
RELATED: Speaker Boehner Scolds Romney For Criticizing President Obama While He's Abroad
Boehner was adamant that Obama's economic policies — "his calls for higher taxes, his refusal to deal with the debt" — will be a major debate topic as the election continues.
And while he notes that there is always the need for "a little retooling" as candidates enter the general election and find themselves up against a specific person, Boehner believes Romney has done a good job so far. "I think he's prepared for this general election," he said, "and will appeal to more than half of America."
As for recent comments Romney made about cuts, Boehner noted that "we've got to make choices. We shouldn't criticize candidates because they're talking about the big choices that we have to make. When you have a $1.3 trillion budget deficit, you have to do something."
The Speaker was also highly critical of the President's record, particularly when compared to Rep. Paul Ryan's budget plan:
The President's going to try to make the election about anything other than his failed economic policy. Because he can't run on his record. So, they're going to pull out every bogeyman they can. The fact is, is that we've got a serious problem. That's why Republicans have a plan for America job creators, to put America back to work.
Ryan's plan, he added, works to finally "own up to the problems we face" in the U.S. "Now, if the President doesn't like that budget," he continued, "where is his budget? His budget failed on the floor of the House, zero to 414. Not one Democrat or one Republican voted for the President's budget. Why? Because he wasn't serious about dealing with America's problem."
When Rose later pointed out that he and the President had come to an agreement on the budget.
"Until he lost his courage," said Boehner.
"He lost his courage," he repeated, saying that "the President checked out last Labor Day" in favor of campaigning over governing.
Watch, via CBS:
Have a tip we should know? tips@mediaite.com