John Boehner Rumor-Mongering A Taste Of Things To Come From Keith Olbermann's Countdown 2.0?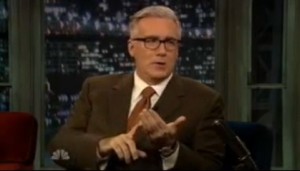 During an appearance on NBC's Late Night with Jimmy Fallon, Keith Olbermann casually amplified completely unsubstantiated rumors about House Speaker John Boehner, rumors which have thus far avoided repetition by most reputable news organizations. During a conference call Friday morning to discuss the unveiling of Countdown II: Electric Boogaloo, Olbermann talked about the benefits of freedom from a corporate behemoth, saying that when preparing for the new show, he had to "stop myself from stopping myself."
If Olbermann's remarks about Boehner are any indication, Current Chairman Al Gore might want to invest in a leash for his new star, even if it's a long one. These rumors about John Boehner have been rattling around for a long time, and with every breathless iteration, they have invariably failed to pan out. One story insisted, in September, that The New York Times was going to drop a Boehner Bomb right before the mid-terms. The source for that story was The New York Post's Page Six gossip column, odd when you consider Olbermann's historic enmity with Page Six, and more recent blasts, as well.
Boehner's office told the Post that the story was "bull(bleep)," then told The Huffington Post ""It is deeply disappointing that even a scandal-mongering rag like the NY Post prints 'bull(bleep)' when the spokesman clearly said it's 'bullshit.'"
This particular rumor was cleverly constructed as a rumor, not about an affair, but about a rumored story about an affair, a variation on tabloid techniques to insulate against charges of defamation.
Rumors like this are a dime a dozen. In fact, no fewer than four different Washington DC sources swore to me, while I was at CPAC in February, that Boehner would be resigning over this very "scandal" the next day. Not "Oh, I hear…," but "clear your freakin' schedule, man, it's going down!"
Despite these breathless entreaties, from real-live insiders, Boehner's resignation never materialized.
As a liberal, I'm obviously not a fan of John Boehner's, but after watching a December interview with he and his wife, I am a fan of Debbie Boehner, who by all appearances, is a devoted and proud wife. Fan or not, I also don't think John Boehner deserves to be unfairly maligned by unfounded rumors, especially by the guy who signs off every broadcast with a tribute to legendary journalist Edward R. Murrow. Unless Olbermann has some news to break, he owes the Boehners an apology, and his viewers, a higher set of standards.
Have a tip we should know? tips@mediaite.com