John Bolton Apparently Believes CIA May Have Fabricated Russia Election Hack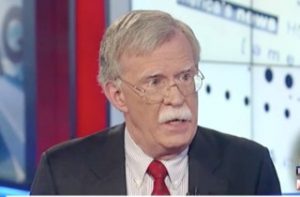 As he was questioned on whether Russia interfered in the 2016 election, one of Donald Trump's reported top picks for Secretary of State decided to float his theory today that the hack on the Democratic National Committee might have been a "false flag" operation fabricated by the CIA.
Former U.N. ambassador John Bolton appeared opposite Eric Shawn on Fox's America's Election HQ, and argued that the facts remain unclear about what the CIA concluded about Russia's cyberactivities and the election. Bolton said that there should be "grave consequences" if Russia interfered with the election but then raised questions about who was really behind all of it.
"We have to know the facts here. It's not at all clear to me just viewing this from the outside that this hacking into the DNC and the RNC computers was not a false flag operation."
Shawn challenged Bolton on his "false flag" insinuation, asking him whether he really thought that President Obama or someone in the intelligence community was trying to "throw something?"
Bolton responded that national intelligence has been "politicized" by the Obama administration, and questions remain about why the Russians would "leave fingerprints" in their DNC hack but no evidence on whether they hacked Hillary Clinton's private email server.
"We would want to know who else might want to influence the election and why they would leave fingerprints that point to the Russians. That's why I say until we know more about how the intelligence community came to this conclusion we don't know whether it is Russian inspired or a false flag."
Bolton went on to say that there should be some form of retaliation if evidence (apparently beyond the CIA concluding it was so) proves that it was the Russians.
Watch above, via Fox.
[Image via screengrab]
— —
>> Follow Ken Meyer (@KenMeyer91) on Twitter
Have a tip we should know? tips@mediaite.com