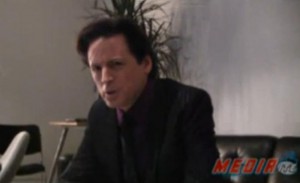 While reporting on Current TV's coverage of the Democratic National Convention last week, I had the chance to speak briefly with the cable network's newest star, John Fugelsang, whose as-yet-untitled show (suggestions?) debuts in October. In our brief interview, John defended Clint Eastwood's performance at the RNC, roasted and toasted his Current co-stars, and praised the Democrats for bringing the unity.
Fugelsang became the latest stand-up comic to defend Clint Eastwood's surreal RNC speech, which is encouraging proof that funny can still transcend partisanship. Most comics immediately identified with Eastwood's performance (Fugelsang even called it a "set"), and even if the bit didn't soar, respected Clint's bravura decision to improv for ten minutes without a net.
"I thought it was a cool performance," Fugelsang said, later noting that Eastwood "made the audience applaud Barack Obama for compromising on Guantanamo Bay, and for compromising on terror trials in military courts."
"It wasn't really a slam on Obama," John continued, "except that it was kind of weird seeing Mr. Halftime In America endorsing Mr. Hey Let's Throw The Game."
He also talked about how the Democrats' convention proved you could "be in the tank for Obama's reelection, without being in the tank for Obama," citing a coalition of progressives and "anti-evil people."
Fugeksang was eager to sing the praises of his new network. "I'm really loving Current," he began, before being thrown off-message by an interviewer eager for dirt.
"Oh, I can tell you what I don't like," he said, riffing on the catering and network co-worker Cenk Uygur, who was being tended to for the night's coverage in the makeup room just behind Fugelsang.
He also said that fellow Current newbie Joy Behar was "fantastic," and that he's been trying to talk her into going back on the road, which is a bit like telling Moses to get back in the Red Sea.
Fugelsang also offered up a few servings of roasted Bill Press, and revealed some of his dream guest list (stay tuned for our interview with Cenk Uygur, and a behind-the-scenes look at Current's coverage):
Follow Tommy Christopher (@TommyXtopher) on Twitter.
Have a tip we should know? tips@mediaite.com