CNBC's John Harwood: Christie Responsible For 'Lock Her Up' Chants But His Aides Just Convicted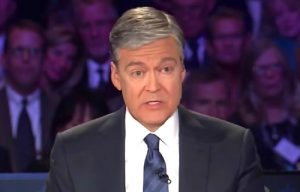 Earlier today, two former aides of New Jersey Governor Chris Christie were found guilty on all counts in the Bridgegate trial. Bill Baroni and Bridget Anne Kelly were convicted on nine counts of conspiracy and fraud related to the politically motivated lane closures of the George Washington Bridge in September 2013.
Prosecutors contented that Christie knew about and was involved in the closures. After the convictions came down, Christie released a statement reiterating that he knew nothing and had "no role in authorizing" the lane closures.
Following the news, CNBC's John Harwood fired a shot at Christie regarding him being largely responsible for the omnipresent "lock her up" chants at Donald Trump rallies in recent months.
"Lock her up!" chants about candidate facing no charges came during RNC speech by Christie whose aides got convicted of actual crimes today

— John Harwood (@JohnJHarwood) November 4, 2016
The CNBC correspondent is referring to Christie's fiery RNC speech where he presided over what was described as a "kangaroo court" of Clinton for her so-called crimes, leading to the crowd shouting "lock her up" throughout his speech.
Harwood, however, probably isn't the best messenger on this, considering his open cheerleading for Hillary Clinton. Hacked emails from WikiLeaks reveal that Harwood had a habit of reaching out to Clinton's campaign to offer unsolicited compliments.
Other hacked emails showed that Harwood trashed Trump to Clinton ally John Podesta after having served as a GOP debate moderator.
[image via screengrab]
–
Follow Justin Baragona on Twitter: @justinbaragona
Have a tip we should know? tips@mediaite.com