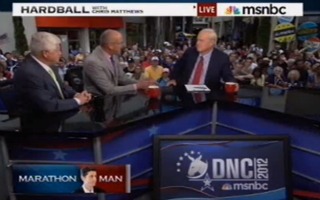 New York Magazine columnist and author, John Heilemann, appeared on MSNBC with Chris Matthews on Tuesday where he was asked for his impression of how the debate between Vice President Joe Biden and Republican Vice Presidential nominee Rep. Paul Ryan (R-WI) would unfold in October. Heilemann conceded that Biden was unlikely to be nominated "to be the chairman of MENSA," but he has not lost many debates in his political career either.

RELATED: Chris Matthews Wishes The Obama Campaign Would Unleash Joe Biden
Matthews first played a clip of Biden speaking to a rally in Detroit this week leveling attacks at his Republican vice presidential competition.
The Hardball host then asked Heilemann how he thought the contest between the two vice presidential nominees would unfold in October as the two face off in a debate.
"He is fired up and ready to go for this debate," said Heilemann, recounting his experiences speaking with the vice president in preparation for a piece he is writing for New York Magazine.
"No one is going to nominate Joe Biden to be the chairman of MENSA. He's not Albert Einstein," said Heilemann. "What he's always been a master of is applied intelligence."
Heileman recalled how Biden prepared to attack Republican Supreme Court nominee Robert Bork who was hailed as an intellectual force within Republican politics. Heileman said that Biden prepared and eventually "took Bob Bork down."
"There are not very many debate that Joe Biden has lost in his career," said Heileman.
Watch the clip below via MSNBC:
> >Follow Noah Rothman (@Noah_C_Rothman) on Twitter
Have a tip we should know? tips@mediaite.com