John Heilemann: If I Were Mitt Romney, 'I Would Be Suicidal' Over Gingrich Lead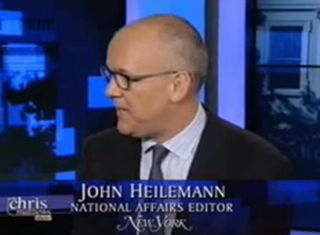 The rise of Newt Gingrich in the polls has been quite a turn of events in the 2012 race, and with Mitt Romney running consistently alongside, on his program this morning Chris Matthews asked his panel to assess the race against Romney from the White House's perspective, and, consequently, the race against Gingrich from Romney's perspective. On the latter point, panelist John Heilemann indirectly praised Romney's thick skin, joking, "If I were him, I would be suicidal" at the prospect of tying Gingrich.
RELATED: Newt Gingrich Is Officially The Frontrunner According To Recent GOP Public Policy Poll
From the White House's perspective, panelist Helene Cooper argued that Romney was the "candidate the White House least wants to run against," with which Heilemann agreed, adding that "if there's a chance they can do some damage to Romney and help some of the other weaker Republicans to ultimately win, why not play that card?" On the same topic, Matthews noted that Romney's strategy of staying off of television was strange: "everybody fights to get on Sunday television… here's Romney avoiding them like the plague." Lizzie O'Leary saw the logic in the tactic: "why would you subject parts of your record to scrutiny?"
RELATED: Newt Gingrich Really Married His High School Math Teacher?
Matthews then changed the subject back to Gingrich, asking Heilemann, "Wouldn't it bug you" that Gingrich, "with all his baggage," is overtaking you, if you were Romney? "I would be suicidal if that were the case," he joked, but Romney was probably, he allowed, taking it better. Besides, he added, Romney would "rather be dealing with Newt Gingrich's rise that Rick Perry's, because Rick Perry has money."
The segment via ABC below:

Have a tip we should know? tips@mediaite.com