John Kasich Is Returning to New Hampshire This Sunday — Is It Step One of Launching #Kasich2020?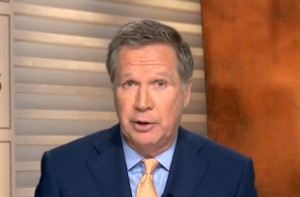 The Mediaite homepage includes a tab up top for "Election 2016," but maybe we can create a "2020" one also and file this as the next election's first story.
By now, in the deep recesses of the brain of Ohio governor John Kasich, he very well may not think that his party's standard-bearer Donald Trump is going to win the election.
After all, Kasich famously skipped out on this year's Republican National Convention in his own back yard, and hasn't given his formal endorsement to the nominee, full-throated or otherwise.
With Trump down substantially in the polls and with only 74 days until Election Tuesday, is Kasich laying the ground work for a 2020 run to knock off Hillary Clinton's reelection bid?
It's so ridiculously early, but the Boston Globe this morning is pointing to Kasich's planned trip to New Hampshire this weekend — where he will meet with loyal supporters from his 2016 campaign that fell short — as step one towards his next national campaign. "It would be perhaps the earliest, most explicit show of White House ambitions in the history of the New Hampshire primary," writes the Globe's James Pindell.
While in New Hampshire, Kasich will also hold an event in support for Chris Sununu, a member of the New Hampshire Executive Council who is running for state governor. If the name sounds familiar, he is the son of former White House Chief of Staff John Sununu under President George H. W. Bush.
Although he finished with just one state win during the GOP primary — Ohio, unsurprisingly — Kasich was technically the last dog in the race to challenge Trump. Hell, even Marco Rubio fared better than Kasich did. But he still touts an impressively conservative record with executive experience, and while his campaign style wasn't the flashiest versus the bomb-the-shit-outta-them Trumpisms, Kasich had real support from within his party, a far preferable nominee in the eyes of many to the outsider who took control.
Have a tip we should know? tips@mediaite.com