John Kerry Acknowledges Code Pink Protester: I Had 'Very Similar Feelings' After Vietnam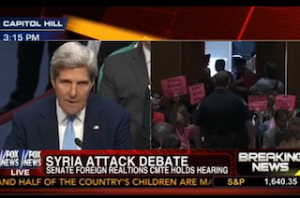 Just as Secretary of State John Kerry was finishing his opening remarks at today's first Senate Foreign Relations Committee on military action in Syria, the proceedings were interrupted by the inevitable presence of Code Pink. The protester was quickly escorted out of the room, but before the hearing moved on, Kerry offered a sober and thoughtful reaction to her objections.
Committee chairman Sen. Bob Menendez (D-NJ) called for order in the hearing as authorities dragged the activist from the room. "We don't want another war!" she screamed. "Launching cruise missiles means another war," she added, drawing attention to the use of terms like "strike" and "intervention" rather than "war" by those calling for action. The last thing TV viewers could hear before the doors closed was, "The American people do not want this!"
In the face of such loud protest, Kerry must have felt compelled to acknowledge the inherent irony of his pushing for military action in front of the Senate 42 long years after he appeared in the same room as a young Naval lieutenant to voice his opposition to the Vietnam War.
"The first time iI testified before this committee when I was 27 years old, I had feelings very similar to that protester," Kerry told the committee. "And I would just say that is exactly why it is so important we are all here, having this debate, talking about these things before the country. And that the Congress itself will act representing the American people. And I think we all can respect those who have a different point of view, and we do."
Watch video below, via Fox News:
[photo via screengrab]
— —
>> Follow Matt Wilstein (@TheMattWilstein) on Twitter
Have a tip we should know? tips@mediaite.com