John Kerry Battles 2004 Version of Himself Over Why Obama is Ignoring Ineffectual U.N.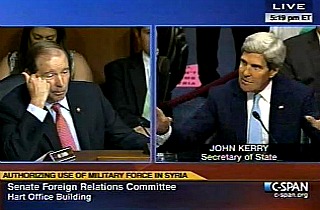 "You either die a hero, or live long enough to see yourself become the villain," as it was put so eloquently in The Dark Knight. For Democrats who opposed the Iraq War after it became clear that the war was going to exceed its original timetable and was growing increasingly unpopular with the public, "long enough" has been just over a decade. On Tuesday, Secretary of State John Kerry became the bad guy.

During Tuesday's marathon Senate Foreign Relations Committee hearings, Kerry became involved in a heated exchange with a fellow Democrat over the decision of President Barack Obama's administration to ignore the United Nations in its run-up to war with Syria over that government's use of chemical weapons on civilians.
"Doesn't this make the United States the policeman of the world?" Kerry asked Sen. Tom Udall (D-NM) rhetorically, anticipating the road-worn perennial gripe shared by all anti-interventionist Democrats that the United Nations has been sidelined in the run-up to this or the other war. "No. It makes the United States a multilateral partner in an effort that the world has accepted the responsibility for."
Udall interrupted him: "We should be standing up and making sure that they are condemned — those countries that are not allowing us to move forward to move — to find a solution where the solution should reside," he insisted.
Showing off his diplomatic skills, Kerry appeared to regard this incoherent expression of emotion as an inquiry meriting an honest response. He artfully shut down Udall's aspirational sentiment by explaining in perfectly rational terms the reality of dealing with the United Nations.
Just a few weeks ago at the U.N., we saw a condemnation of a chemical attack — without blame, , without citing [Bashar al-] Assad, without saying who was responsible — simply a condemnation of a chemical attack and the Russians blocked it.
He continued:
I would urge you, you said how do we know it won't result in X or Y or Z happening if we don't do it? let me ask you: it is not a question of what will happen if we don't do it. It is a certainty. Are you going to be comfortable if Assad, as a result of the United States not doing anything, then gases his people yet again and the world says, 'why didn't the United States act?'
"History is full of opportunity of moments where someone didn't stand up and act when it made a difference," Kerry concluded.
RELATED: WATCH: Nancy Pelosi Consulted 5-Year-Old Grandson on 'War with Syria'
It was a strong defense of unilateralism from Kerry. It was an even stronger condemnation of the United Nations, which serves little to no purpose today but to provide the world with grotesque ironies like occasionally allowing Iran or Venezuela to sit on the UN Human Rights Council or to provide middling powers like Russia a veto over actions America judges to be in its best interests.
President George W. Bush could have said John Kerry's words practically verbatim in 2003. Of course, if he had, John Kerry would have panned them when he ran for president.
"This president hasn't even held the kind of statesman-like summits that pull people together and get them to invest in those states," Kerry said in a presidential debate broadcast on PBS on October 1, 2004. "In fact, he's done the opposite. He pushed them away."
"When the Secretary General Kofi Annan offered the United Nations, he said, 'No, no, we'll go do this alone,'" Kerry continued.
"The president said he would exhaust the remedies of the United Nations and go through that full process. He didn't," the former Massachusetts senator added later amid a condemnation of Bush for rushing to war without allowing for a U.N. role in the post-war reconstruction phase. "He cut if off, sort of, arbitrarily."
"You don't help yourself with other nations," Kerry insisted, "when you refuse to deal at length with the United Nations."
The Bush administration was correct then and the Obama administration is correct now to sidestep the United Nations, which now only provides soft-hearted internationalists a venue in which they may perceive themselves to be effectual. But the situation in Syria has evolved beyond the stages where making progressive globalists feel better about themselves is a worthy pursuit.
— —
> >Follow Noah Rothman (@NoahCRothman) on Twitter
Have a tip we should know? tips@mediaite.com