John Kerry Clashes With Soledad O'Brien Over Idea That Romney Appeared 'Tempered And Pragmatic'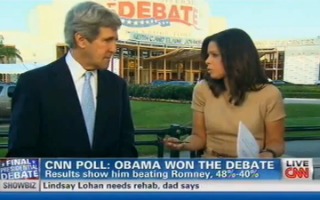 Former Democratic presidential candidate John Kerry appeared on CNN's Starting Point on Tuesday, where host Soledad O'Brien shared a bit from Bret Stephens' WSJ review of the previous night's debate. Mitt Romney "seemed reasonable and tempered and pragmatic and unruffled," Stephens wrote, "and therefore presidential."
O'Brien asked him whether Romney's more subdued approach versus Obama's more "aggressive" take on the debate was the result of "strategy."
"Well, if your strategy is to reverse every position you had, two weeks before an election–" Kerry began.
"If it makes you 'reasonable and tempered and pragmatic and unruffled'…" O'Brien replied, reading from the aforementioned article.
"Oh, I see. So, in other words, so President Obama has been reasonable and–," said Kerry, cutting her off. "I know you're trying–
"I'm not trying. I'm just asking a question, Sir," O'Brien said. "I'm just saying here's what Bret Stephens from the Wall Street Journal–"
"But you can't trust a candidate for president of the United States if you don't know what he really believes," said Kerry. "Mitt Romney is hiding a bunch of positions. He's advised by the very same people who brought you Iraq and the years of the, of the decline of our economy. President Obama has been steady and clear, not only, on the economy, jobs, record low for four years. On, on, I mean, on the jobless claims. The job rate is a record low of four years. Foreclosures, five-year low. Stock market, almost a record high. 401(k)s, up…"
"Sluggish, sluggish, sluggish," O'Brien replied.
"Soledad, look at what we had to dig out of," Kerry countered as O'Brien pressed on. "We're at the brink of taking off. Ask anybody in business. People, the confidence of our country is up."
Watch, via CNN:
Have a tip we should know? tips@mediaite.com