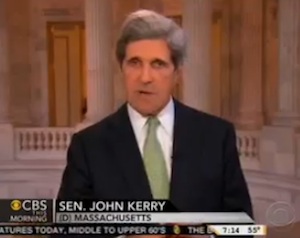 John Kerry was a guest on Thursday's CBS This Morning, and lit into Republican presidential frontrunner Mitt Romney over his foreign affairs ideas.
While most of the appearance focused on Syria, host Charlie Rose found a segue between the topic and a Washington Post op-ed that Kerry penned, which criticized Romney's would-be policies:
I have little interest in inserting myself, as a former nominee of my party, into this presidential campaign season. But as the chairman of the Senate Foreign Relations Committee, which has a vital role in issues of national security, I feel compelled to respond to the ways that, in pursuit of the Republican nomination, former Massachusetts governor Mitt Romney has put himself front and center in debates that have serious consequences.
"Do you see no differences at all between candidate Romney and President Obama?" Rose asked.
"I see a profound difference," Kerry responded. "The difference is President Obama is acting like a president, a commander in chief and like a statesperson, and Mitt Romney is behaving like a irresponsible candidate, frankly, because everything that he laid out in his op-ed, President Obama is already doing. So what he's doing is setting up straw men, basically trying to just argue a case, say, 'I'm strong, you're weak,' without any evidence supporting it whatsoever.
"This is not a time for politics," Kerry concluded. "It is a time for responsible, non-political, America-united approach to a very serious challenge."
Watch a clip of the interview below, courtesy of CBS:
Have a tip we should know? tips@mediaite.com