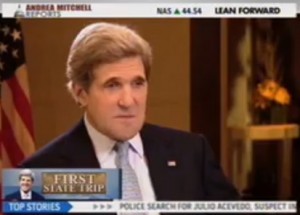 Former NBA star Dennis Rodman has been taking a piñata-style beating over his visit to North Korea last week, and subsequent praise of dictator/friend for life Kim Jong Un. The overblown reaction reached Lovelace-ian proportions Tuesday afternoon, however, when Andrea Mitchell Reports host Andrea Mitchell asked Secretary of State John Kerry if Rodman's antics had "undercut" diplomatic pressure from the West. Kerry, not usually known for his brevity, took about five seconds to put the whole thing in perspective.
Regardless of your feelings for Dennis Rodman, the fallout from his trip has been more overwrought than the work product of a blacksmith with OCD. Even before Rodman left North Korea, he made it crystal clear that he had no idea where he was, or what he was doing, by tweeting that he hoped to run into South Korean rapper Psy. Rodman's interview with This Week's George Stephanopoulos cemented that fact, as the Worm was clearly naive about foreign policy, and unwilling to hold Kim Jong Un accountable for his crimes against humanity. You might also be shocked to learn that Dennis Rodman doesn't have a coherent economic plan, either, beyond printing more money jackets. That'd be crazy, right?
Rodman's trip has mainly provided critics with the opportunity to prove how much they love America by thinking up unflattering adjectives for Dennis Rodman, which is a matter of taste. Sometimes, the fish in the barrel are asking for it, but do you have to use a .50 cal? My absolute favorite criticism is Eric Bolling's fear that now, now, the North Koreans can say Kim Jong Un is a "hero in America," because fidelity to fact heretofore prevented them from saying that.
Whether or not you think the level and nature of the scorn being heaped on Rodman is as absurd as the visit itself, though, the idea that Dennis Rodman could undermine serious diplomatic efforts with North Korea is chillingly, terrifyingly laughable. On Tuesday afternoon, MSNBC's Andrea Mitchell asked Rodman's diplomatic colleague, Sectretary of State John Kerry, about just that possibility.
"North Korea," Mitchel said, "speaking of military, there seems to be some movement towards agreement with China on sanctions, UN sanctions against the North – is it helpful when someone as high profile as Dennis Rodman goes to Pyongyang and calls Kim Jong Un a great friend, his best friend, a nice guy… doesn't that undercut pressure from the West?"
"You know what?" Kerry replied, "Dennis Rodman was a great basketball player, and as a diplomat, he was a great basketball player. And that's where we'll leave it."
Whew! Now, we can all go back to wondering how much more quickly the Cold War could have ended if Rocky Balboa had taken it a little easier on Ivan Drago.
Secretary Kerry absolutely nailed it: Dennis Rodman, at worst, completely fulfilled what was expected of him. Luckily, the amount of damage that a former NBA star can do on the world stage is rather limited. It's not as though anyone tried to make Rodman Vice President.
Here's the clip, from Andrea Mitchell Reports:
Follow Tommy Christopher (@TommyXtopher) on Twitter.
Have a tip we should know? tips@mediaite.com