John Kerry Wavers on Guarantee There Will Be 'No Boots on the Ground' in Syria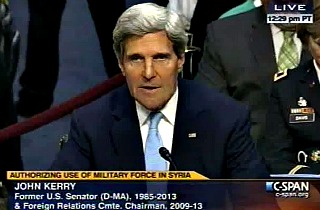 On Tuesday, Secretary of State John Kerry testified before the Senate Foreign Relations Committee about form American intervention into the Syrian civil war would take. When Kerry was asked by Sen. Robert Menendez (D-NJ) about what guarantees President Barack Obama's administration could give that intervention would not require "boots on the ground," Kerry's response did not satisfy Menendez's concerns.

During the wide-ranging hearing, Menendez asked Kerry about the language of a possible congressional resolution authorizing force against Syria. "Would you tell us whether you believe that a prohibition for having American boots on the ground, is that something that the administration would accept as part of a resolution?" Menendez asked.
RELATED: Fox's Chris Wallace: Obama Admin Has Made Syria Plans 'Quite Clear'
"Mr. Chairman, it would be preferable not to," Kerry replied. "Not because there is any plan or desire whatsoever to have boots on the ground."
Kerry said that "in the event Syria imploded" or "in the event there was a threat of a chemical weapons cache falling into the hands of al-Nusra or someone else" would the option to have combat boots on the ground be necessary.
Menendez took issue with this statement and said that some language amenable to the White House prohibiting boots on the ground would have to be crafted.
Later, when pressed by Sen. Bob Corker (R-TN) about his statement, Kerry stated unequivocally that he was only speaking hypothetically and there would be absolutely no combat troops in Syria.
Watch the clip below via C-SPAN:
— —
> >Follow Noah Rothman (@NoahCRothman) on Twitter
Have a tip we should know? [email protected]