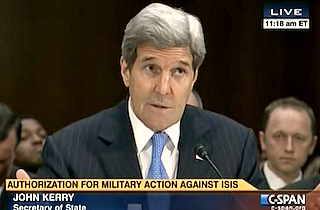 While testifying before the Senate Foreign Relations Committee Wednesday morning, Secretary of State John Kerry harshly criticized the letter sent by 47 Republican Senators to Tehran warning the Iranian government the deal it was negotiating with the Obama administration would be null the moment President Barack Obama left office.
"My reaction to the letter was utter disbelief," Kerry said. "During my 29 years here in the Senate, I have never heard of, nor even heard of it being proposed, anything comparable to this. If I had, I can guarantee you no matter what the issue and no matter who was president, I would have certainly rejected it."
RELATED: Iranian Foreign Minister: GOP Letter Shows 'We Cannot Trust U.S.'
"Nobody is questioning anybody's right to dissent," Kerry added. "But to write to the leaders in the middle of a negotiation, particularly the leaders that they have criticized other people for even engaging with, and suggest that they're going to give a constitutional lesson — which by the way, was absolutely incorrect — is quite stunning. This letter ignores more than two centuries of precedence in the conduct of American foreign policy."
Kerry went on to argue that an agreement between the executives of two countries was not subject to the normal treaty approval oversight of Congress. He added that a future president could presumably void it, though the chances of a president nullifying a nuclear agreement signed off on by other nations were pretty slim.
Watch the clip below, via C-SPAN:
[Image via screengrab]
——
>> Follow Evan McMurry (@evanmcmurry) on Twitter
Have a tip we should know? tips@mediaite.com