John King Calls Out Jason Mattera For Misrepresenting Himself At Joe Biden Event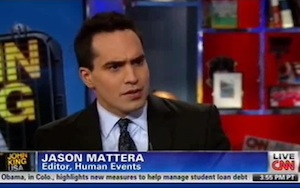 Human Events editor Jason Mattera appeared on Wednesday's John King USA, where he got into a dust-up with King over his unconventional interview methods in ambushing Vice President Biden. "You misrepresented yourself, you said, 'Can I take a picture with you?'" King scolded.
"A journalist can't take pictures with the Vice President?" Mattera asked. "I actually think it's unethical," King responded, "…At a public place, to say, come pose with me, I'm your buddy, then ask a question. Do you think that's fair?"
Mattera defended himself by saying he was wearing his media badge and that he got the Vice President to give a honest, gut reaction. "I asked the question that no other people in the media asked. Let's not kid ourselves. This selective outrage is kind of funny because CBS, ABC have been doing undercover sting operations. Heck, Mike Wallace won Emmys and Peabodys for ambush journalism and it was heralded…but in a public place with hordes of media around, I ask 'Do you regret your rape reference' and oh my gosh — this is a confrontation!"
RELATED: Joe Biden Schools Right Wing Ambush Journo On Rape Comments: 'Don't Screw Around With Me'
Mattera actually got King to concede that Vice President Biden knew he was fair game to be asked a question by a journalist in being out-and-about in the Hart Building. "The Vice President worked in that building as a senator for 36 years, so he knows the risks he's facing, so any complaint I would view as whining, frankly," "I can give him a tissue," Mattera snarked.
Say what you will about the pugnacious conservative writer, and he is no fan of Mediaite, but give Mattera props for not being afraid to mix it up with King and defending himself ably about his question to the vice president. I'm sure that if a liberal reporter — or for arguments sake, Borat had gotten the opportunity to question Vice President Dick Cheney in an unorthodox manner about Valerie Plame or his Energy Task Force, many media commentators would most likely be giving high-fives all around.
Watch King's interview with Mattera below:

Have a tip we should know? tips@mediaite.com