John King Interviews James Hoffa, Fails To Inquire About 'Sons Of Bitches' Comment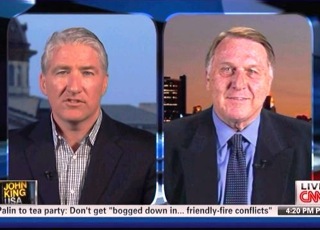 When the news hit this morning that Teamsters Union head Jimmy Hoffa had called the Tea Party "sons of bitches" at a Labor Day event attended by the President, Americans responded with one powerful, unavoidable question: "When did they find Jimmy Hoffa?" After being informed that the apparent anachronism was merely due to the fact that Hoffa's son, James, Jr., had taken the Teamsters throne, it was time to demand an answer for the tactless rhetoric. That demand fell by the wayside in his next TV appearance, however, as CNN host John King asked him only to elaborate on the labor movement's zeitgeist and their take on the 2012 contenders.
Hoffa appeared on John King USA to discuss the labor movement and the Tea Party's place in it after his speech today– from which the controversial clip was played to introduce the guest. But that was where any discussion of the rhetoric ended, and instead King turned to President Obama's rhetoric, and asked whether Hoffa was satisfied with the more fiery tone exhibited today. He was, and he explained that, to him, "there really is no dealing with the Tea Party– you can't be reasonable with people that are unreasonable." He suggested he didn't see any "middle ground" and the voters who had given the Tea Party strength in Congress were likely regretting it. "I think people are aware now that this group is after them," he contended, via their opposition to significant funding for entitlement programs.
King asked him specifically about one political candidate in the Republican race whose roots were, long ago, in the Detroit auto industry. Hoffa seemed to be in disbelief with some of Mitt Romney's rhetoric, arguing that he was "making a mistake" to attack unions given the current progress in the city, which Hoffa believed significant. "I can't believe that he's talking this way and I don't know who he's addressing," Hoffa said of Romney, "but it's not going to work in Michigan." Hoffa did not address his remarks this morning, nor was he prompted to. Hoffa did give an interview earlier today to Talking Points Memo, however, where he said he would say the exact same words again, word for word.
For many other guests who say and do outrageous things all the time and get media coverage for them, it may have been perfectly reasonable to overlook the comments, which made for one of the top stories of the day. But for Hoffa, calling the Tea Party "sons of bitches" is just about the entirety of the 15 minutes to which he, as we all are, entitled. Hoffa is not and has not been an important figure in the national news spotlight for a very long time– leaders like Andy Stern and Richard Trumpka greatly overshadow his influence in the labor movement. The only thing that would make Hoffa an interesting person to talk to about such issues for anyone watching is the fact that he made a grossly incendiary comment in front of the President of the United States that has yet to be explained. While a simple question about the comments would have been in order, he was instead allowed to make the same point in much more lukewarm terms– that the Tea Party was "unreasonable" and dangerous to the labor movement– without question.
That is not to say that King had to be belligerent at Hoffa for the comment, as many on the right will surely demand of him in the future. Some on the left have denied that Hoffa meant anything of it other than voting people out of office, suggesting Fox News selectively edited the comments to make them sound violent (Fox News aired the comments earlier today, and the clip used on John King USA is the same one that appeared on Fox News). Other sites have published more extensive quotes from the day that show he was at some point during the speech referring to elections, and Fox News aired a longer clip of his full comments with context later in the day. It was entirely possible to raise the controversy without being needlessly antagonistic but, as it stands, Hoffa remains unaccountable for what, if taken at face value, are significantly off-color comments– and, more importantly, his only claim to relevance.
The interview via CNN below:
Have a tip we should know? tips@mediaite.com