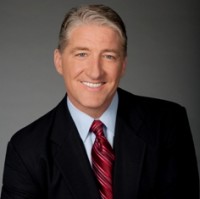 John King takes over the 7pmET timeslot on CNN early next year, as the network moves from its advocacy journalism previous host, Lou Dobbs, to a more traditional newscast.
We spoke to King yesterday as he was on the road in Little Rock, Arkansas, visiting his 45th state in 45 weeks. He talked about plans for the new show, what he'll take from Dobbs' previous program, and yes, ratings.
The CNN anchor still has some time before the show debuts in a couple months, and for now, King is focused on his current show, State of the Union. But King told Mediaite there was a "diverse group" of young people and those with more experience that are "kicking around a whole bunch of ideas."
"We're having a fun, lively debate about how to structure the format, the pacing of the show," he said.
"If you over-worry about [ratings] then you don't have consistency and don't have foundation."
One thing he said he does expect is to have extended interviews, upwards of 8-10 minutes, to let the story breathe. This seems to be something he'll take from his current Sunday show role, where he has the luxury of four hours. While the show will be largely a "Washington-based public affairs show," King plans to incorporate a little sports, arts and culture as well.
Of course, the big question is will it be able to help turn around CNN's ratings, which are low in comparison to the cable news competition. But King, somewhat echoing the sentiments of his boss Jon Klein, says he's not focused on them. "I want people to watch the program obviously," he said. "One of the goals of having a program is to have an audience…But you can't do that. If you over-worry about that then you don't have consistency and don't have foundation."
But he did have a goal in mind when it comes to the tone of the show. "People are still as thirsty and engaged as they were during the presidential campaign, we're just not giving the information in an interesting and compelling way," he said, saying the program needs to be "relevant" in its news dissemination. Some other adjectives: he hopes the show is "fun, fair, interesting, provocative and compelling."
Of his predecessor, Dobbs, King notes he has a different approach to journalism. But, "One of things I admire about Lou is he had great passion for what he did…Some of how Lou approached issues became controversial and I will leave that debate to others."
King also pointed to Dobbs' focus on the middle class and issues for the group as something that put the former CNN anchor "ahead of the curve in identifying important issues."
>>>NEXT PAGE: Will The 'Magic Wall' be a part of the new show?
Have a tip we should know? tips@mediaite.com