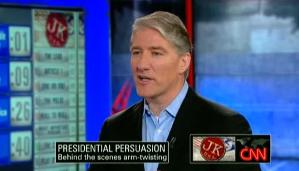 John King, USA has been on the map for three weeks now, and the 7pmET show has yet to become a major destination for viewers.
It's still early in the life of the program, but the theory that the show is supposed to help the sagging prime time ratings has not come to fruition thus far.
When we talked to anchor John King during our "Office Hours" show last month, here's what he said about the ratings:
I don't care at all about how they look after three days, and I mean that from the bottom of my heart. If you come back to me after three weeks, and especially three months, then we can have a more serious conversation about that. And even more importantly, six months and nine months.
Well, it's been three weeks – and we'll certainly take another look three months down the road. But for now, here's what we can take from the ratings for the show.
• Compared to the same three weeks last year, when Lou Dobbs occupied the slot, the program is down 42% in the A25-54 demographic (225,000 to 131,000) and down 37% in total viewers (807,000 to 509,000). That's obviously a huge drop-off, and a fairly direct comparison. It should be noted MSNBC is way down in this comparison as well.
• Compared to the prior four weeks this year, King's show has fared better, up 1% in total viewers and 4% in the demo. That's compared to the cable news competition, which saw MSNBC grow 19% and 21% and FNC fall 14% and 11% in those categories.
• But if we compare King's three week average to the entire pre-King 7pmET first quarter for CNN (when Wolf Blitzer's Situation Room occupied the slot), the program has seen declines. It is down 16% in total viewers and 24% in the demo.
• Versus the rest of cable news during the three weeks USA has been in existence, FNC is way out in first, followed by MSNBC's Hardball repeat. CNN comes in 3rd in both categories, but just ahead of HLN in the demo (7,000 difference).
Now what can we take from this? First of all, it should be noted again that three weeks is hardly long enough to judge how a show will perform over time. And this time of year is generally slower than the winter and summer months. But – it is a significantly slow start (and losing to a Hardball repeat, by a lot, is not a good sign). Today, CNN/U.S. President Jon Klein called it a "new kind of show," saying it was "not a newscast, not an overly partisan opinion show." That separates it a bit from the competition at the hour – FNC has a "newscast" (Shepard Smith's FOX Report) and MSNBC has an "opinion show." And the format changes have shaken up the traditional CNN formula. But, so far, John King, USA is not a location viewers are itching to visit.
—–
» Follow Steve Krakauer on Twitter
Have a tip we should know? tips@mediaite.com