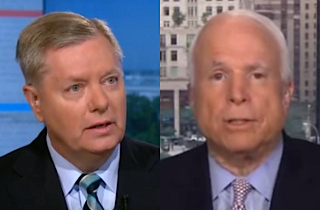 There are no closer allies in the Republican wing of the United States Senate than John McCain (R-AZ) and Lindsey Graham (R-SC). So it has taken many commentators by surprise that the two men appear to have a fundamental disagreement when it comes to how the U.S. should approach the current crisis in Iraq.
While Graham has suggested that the United States work with Iran's Shia leaders to tamp down the Sunni insurgents that are threatening to take over Iraq, McCain believes that any collaboration with Iran would be "the height of folly."
Graham's ideas drew shocked reactions from the two CNN hosts who were interviewing him on CNN's State of the Union Sunday. "It's sort of hard for me to believe that I'm hearing a Republican saying, sit down and talk with Iran," Dana Bash said while Gloria Borger reacted similarly.
The South Carolina Republican explained that if the Islamic State of Iraq and Syria (ISIS) takes over Baghdad, Iran will be the "biggest winner" and the United States will be the "biggest loser." When asked to clarify how he thinks the U.S. should work with Iran, Graham said, "To ignore Iran and not tell them, 'Don't take advantage of the situation,' would be a mistake."
Watch video below, via CNN:
By contrast, McCain put out a statement on Monday that specifically denounced the idea of working with Iran, which was also put forward by Secretary of State John Kerry as a potential option.
"It would be the height of folly to believe that the Iranian regime can be our partner in managing the deteriorating security situation in Iraq. This is the same Iranian regime that has trained and armed the most dangerous Shia militant groups, that has consistently urged Prime Minister Maliki to pursue a narrow sectarian agenda at the expense of national reconciliation, that supplies the rockets that have been fired at the U.S. Embassy in Baghdad, that has sponsored acts of terrorism throughout the Middle East and the world, and that continues to use Iraq's territory and airspace to send weapons and fighters to prop up Bashar al-Assad in Syria."
Of course, while the two senators disagree on this fundamental point, they have both said that they want President Barack Obama to approve airstrikes against the militants in Iraq, something he has neither ruled out nor committed to.
[Photo via screengrab]
— —
>> Follow Matt Wilstein (@TheMattWilstein) on Twitter
Have a tip we should know? [email protected]