John McCain: Benghazi Misinformation Is Result Of Cover-Up, An 'Unqualified' Commander In Chief, Or Both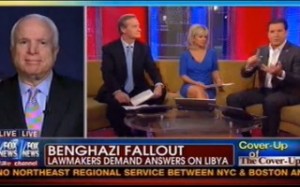 Fox & Friends continued its reporting on the Benghazi attack Wednesday morning, talking to Senator John McCain about how much the White House knew about what happened in Libya on September 11th.
Here's what McCain had to say on the matter:
I've been traveling all over the country, obviously on behalf of Mitt Romney, and our candidates and I can tell you, our veterans are angry. They're angry and they no longer trust the Commander in Chief because this debacle has been… not only what happened is infuriated them, but all of this cover-up. You know, right after the raid on Bin Laden, within 24 hours, we practically knew every detail — some details we never should have been told. Now it's seven weeks and we still have not had the kind of information, the American people have not had the kind of information that is necessary. One of our veterans… I said, this could be as bad as Watergate and one of our veterans said yeah, but nobody died in Watergate. Four brave Americans. Three of them veterans.

Obviously there has been an obfuscation, a delay, unacceptable stories and, of course, probably the worst is this continued, for days and days, narrative that it was a spontaneous demonstration caused by a hateful video. We know that's not true. Why did the President keep saying that day after day, send out his UN ambassador? The American people deserve answers and it's been seven weeks now and we haven't had answers. There is a reason for that.
McCain maintained that either there is a massive cover-up at play, the President is "not qualified to be Commander in Chief," or "maybe a combination of both."
Have a look, via Fox News:
Have a tip we should know? tips@mediaite.com