John McCain Blasts Hillary Clinton's 'Adoring' Media For Ignoring 'Cover Up' In Benghazi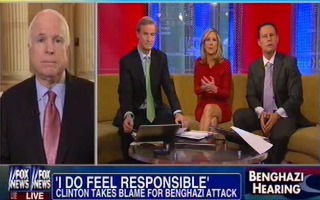 Sen. John McCain (R-AZ) was not happy with how the media framed Secretary of State Hillary Clinton's performance in Wednesday's Congressional hearings on Benghazi. McCain said that Clinton's "Adoring" media has been forgiving of her tone and will probably declare that the controversy surrounding the Benghazi attack is over. The Arizona senator called the administration's handling of Benghazi a "cover up." He assured the Fox & Friends hosts that the investigation into this scandal is not over.

RELATED: John McCain Confronts Hillary Clinton On Benghazi: Your Answers 'Are Not Satisfactory'
Alisyn Camerota asked McCain what he learned from Sec. Clinton's testimony on Benghazi. "Not much," McCain replied.
"She was called 'feisty' in the media – she obviously has an adoring media," McCain continued. "She really didn't answer any questions. Her response to Sen. [Ron] Johnson about whether there was a spontaneous demonstration or not, saying it didn't matter? That was stunning. It was really stunning. Of course it matters."
Camerota clarified that Clinton was saying that what is important now is not the flawed early explanation for the attack in Benghazi, but prosecuting the perpetrators of that attack and preventing future events like it.
"By saying it doesn't matter, that sets aside or diminishes the importance of all the measures they didn't take," McCain said. He went on to list the number of events that showed the Benghazi consulate was a target for Al Qaeda and noted that diplomatic personnel had requested additional security assets.
"This thing has been a cover up. I'm sorry to tell you, the adoring media will probably tell you, 'well, that chapter is over.' Well, it's not over for the families who have sacrificed needlessly, in my view," McCain said.
Watch the segment below via Fox News Channel:
> >Follow Noah Rothman (@NoahCRothman) on Twitter
Have a tip we should know? tips@mediaite.com