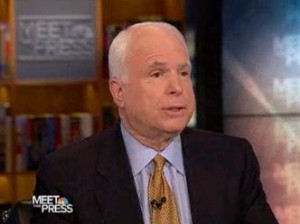 During an appearance on Meet the Press this morning that was mostly focused on foreign policy, David Gregory asked John McCain for his take on the race for the Republican nomination so far, and why Mitt Romney seems unable to seal the deal before the convention. And McCain did not mince words, calling the 2012 race the "nastiest" he's ever seen, and attributing a lot of it to the large number of negative ads put out by Super PACs. He said all the negativity has been driving up every candidates' unfavorables, and that ends up helping President Obama in the fall.
RELATED: John McCain: The GOP Primary Is 'Like Watching A Greek Tragedy'
Gregory brought up a point made by Rick Santorum earlier this week, asking how Romney can be expected to do well in the general election when he might not be able to outright win the support of a majority of Republicans to take the nomination first. He said that Romney has been "getting better as a candidate" on the trail recently because of his focus on the economy. McCain reminded Gregory that in 2008, many of the contests were winner-take-all, which is how he secured the nomination months in advance, but now most states award delegates proportionally. He also pointed to the influence of campaign finance on the race as a key factor in deciding the ouctome.
"Also, the Super PACs have played a key role, unfortunately, in my view, because most of them are negative ads. They've driven up the unfavorables of all of the candidates and made it much more difficult, frankly, to win the election in November."
When Gregory asked McCain to compare this race to his own four years ago, McCain dubbed the 2012 race "the nastiest I have ever seen." He went right back to Super PACs as a big problem in that respect, dubbing Citizens United "the worst decision the United States Supreme Court has made in many years."
RELATED: McCain Blasts GOP Super PACs, Calls Supreme Court Ignorant For Citizens United Decision
Gregory asked McCain about Newt Gingrich's prospects, and McCain suspected that as long as Gingrich has the backing of a Super PAC and strong campaign financials, he'll be in the race until the very end. He declined to ask Gingrich to get out of the race, though he did add that the chances of him winning are "very slim." And McCain completely dismissed the idea that Romney will be heading into a brokered convention in August.
Watch the video below, courtesy of NBC:
Have a tip we should know? tips@mediaite.com
Josh Feldman - Senior Editor