John McCain Confronts Hillary Clinton On Benghazi: Your Answers 'Are Not Satisfactory'
McCain Confronts Hillary On Benghazi: Your Answers 'Are Not Satisfactory'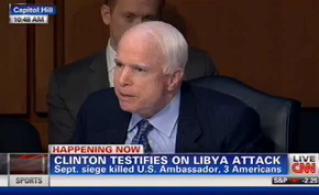 "It's wonderful to see you in good health and as combative as ever," Sen. John McCain (R-AZ) greeted Secretary of State Hillary Clinton during the Senate hearing on the Benghazi attack on Wednesday. Citing questions he still had, the senator noted that Clinton's answers were inadequate.
"There are many questions that are unanswered, and the answers that you've given this morning are not satisfactory to me," McCain said, particularly pointing to the security at the U.S. consulate. "The American people deserve to know answers. And they certainly don't deserve false answers."
And what UN Ambassador Susan Rice said following the attack was false information, he said, further questioning why "the administration still refuses to provide the full text of the e-mails regarding the deletion of references to Al Qaeda and terrorism in the talking points."
"You ought to have your facts straight," McCain told Clinton. "Here we are, four months later, and we still don't have the basic information."
Clinton said she understood McCain's "very strong" feelings. "We just have disagreement," she said. "We have a disagreement about what did happen and when it happened with respect to explaining the sequence of events."
Clinton also pointed to congressional holds on bilateral security assistance and other aid. "We got to get our act together between the administration and the Congress," she said.
"If this is a priority, and if we are serious about trying to help this government stand up security and deal with what is a very dangerous environment from east to west," she added, "then we have to work together."
Take a look, via CNN:

Have a tip we should know? tips@mediaite.com