John McCain Defends Anti-Immigration GOP Heckler He Battled With At Town Hall Meeting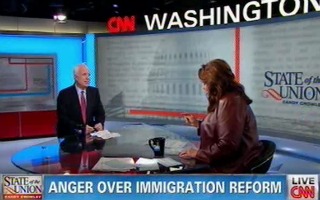 During a town hall meeting in Arizona, Sen. John McCain (R-AZ) was confronted with a number of residents who were upset over talks about immigration reform in Washington and what they see as a lack of progress in securing the nation's southern border. On Sunday, McCain appeared on CNN's State of the Union with Candy Crowley where he defended the heckler and the base of the Republican Party.

RELATED: 'Where's The Fence?' Sen. McCain Faces Angry Residents While Defending Immigration Plan During Town Hall
Crowley asked McCain about one exchange he had with a town hall participant that became heated and was widely circulated on the internet. "Lots of echoes here of previous elections," Crowley noted.
"That's what town halls are supposed to be about," McCain replied with a smile. "I've had town hall meetings for 30 years, and sometimes they become very spirited. I enjoy them."
"I didn't believe that that person was correct with his facts so I fired back at him, and people said 'good, that's what we want to hear,'" McCain added. "I'm proud of that, and if anybody doesn't like it than you don't have to come to the town hall meeting."
"What does that tell you about the base of the Republican Party?" Crowley asked. "Does it tell you that you've got a problem here in selling immigration reform?"
McCain replied that most Americans, as well as most Republicans, agree that immigration reform is critical so long as there are border security reforms and illegal immigrants are not given preferential pathways to citizenship. "Just because they broke the law doesn't mean they're condemned forever to a twilight status," McCain said.
McCain said that the GOP's primary voters would not revolt against the present set of lawmakers in Washington over immigration reform, so long as they did not repeat the "mistake of '86."
"We can't have a third wave," McCain concluded.
Watch the clip below via CNN:
> >Follow Noah Rothman (@NoahCRothman) on Twitter
Have a tip we should know? tips@mediaite.com