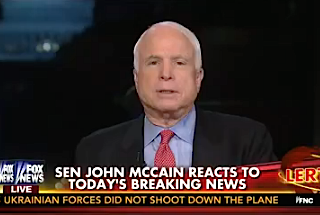 When he appeared on MSNBC and CNN Thursday afternoon, shortly after news broke of the Malaysia Airlines passenger jet that had been shot down over Ukraine, Sen. John McCain (R-AZ) warned that if Russia turned out to be responsible, there would be "hell to pay." But by the time he joined Sean Hannity on Fox News last night, he had turned his outrage directly at President Barack Obama.
"It's just been cowardly," McCain said. "It's a cowardly administration that we failed to give the Ukrainians weapons with which to defend themselves." He speculated that the Russian separatists who allegedly shot down the plane "may not even have occupied and had access to these weapons, which apparently they got at an airfield," if the U.S. had intervened earlier in the Ukrainian conflict with Russia.
McCain then told Hannity what he would do in response to the deadly crash:
"First, give the Ukrainians weapons to defend themselves and regain their territory. Second of all, move some of our troops in to areas that are being threatened by Vladimir Putin, in other countries like the Baltics and others. Move missile defense into the places where we got out of, like the Czech Republic and Poland and other places. And impose the harshest possible sanctions on Vladimir Putin and Russia. And that's just for openers."
And just like that, the likely accidental shooting down of a Malaysian plane carrying mostly Dutch passengers by Russian separatists in Ukraine is President Obama's fault.
Watch video below, via Fox News:
[Photo via screengrab]
— —
>> Follow Matt Wilstein (@TheMattWilstein) on Twitter
Have a tip we should know? tips@mediaite.com