John McCain Gets Heated With David Gregory Over Benghazi: 'Do You Care Whether Four Americans Died?'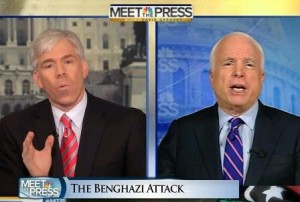 Things got heated on Meet the Press this morning when Sen. John McCain grew frustrated with host David Gregory during a discussion about the Benghazi attack. As Gregory pressed him on the assertion of a "cover-up," McCain had a question or two for the host as well.
"The president said this week on the issue of Benghazi, you guys are running out of things to ask about," Gregory noted. "So let me ask you, at the end of the day here on Benghazi, if the worst thing is true, what is that truth about how the president handled this crisis?"
"I do know that there are so many answers we don't know," McCain replied. "For example, what did the president do the night of the attack?"
The senator went on to cite questions surrounding Secretary of State Hillary Clinton — reiterating that there are simply too many things we don't know. "We've had two movies about getting bin Laden and we don't even know who the people were who were evacuated from the consulate the next day after the attack," McCain asserted.
As he went on to cite a cover-up, Gregory asked, "But a massive cover-up of what?" That led to the pair talking over each other until McCain finally asked, "I'm asking you, do you care whether four Americans died? The reasons for that?"
"A cover-up of what?" Gregory repeated. "Of the information concerning the deaths of four brave Americans. The information has not been forthcoming. You can obviously believe that it has. I know that it hasn't."
Watch below, via NBC:

Have a tip we should know? tips@mediaite.com